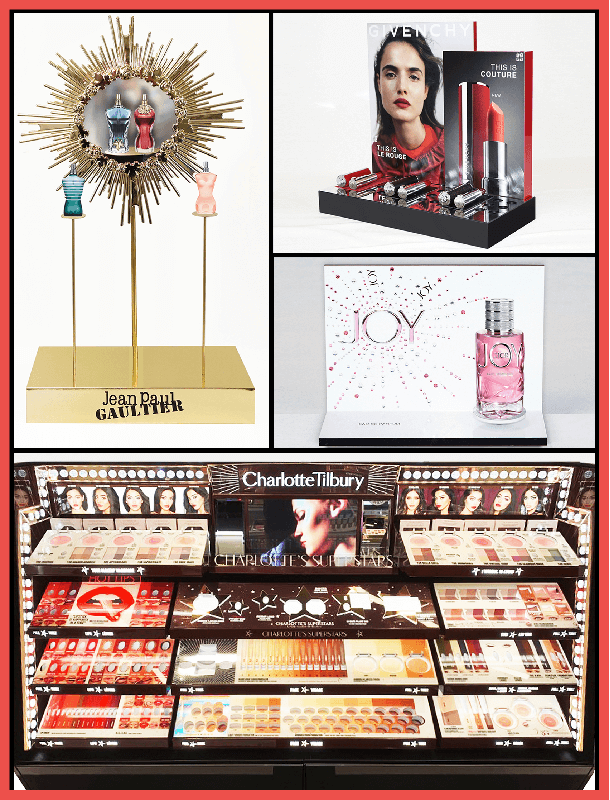 ×
News
OUR CURRENT PROJECTS
KENZO - FLOWERBYKENZO EAU DE VIE CARDBOARD DISPLAY STAND
Love at first sight for the new fragrance FLOWER BY KENZO EAU DE VIE launched in 2019 and showcased instore with a cardboard display stand. The iconic poppy sets the tone with red colour omnipresence on the display! The cardboard display stand presents on the top part two testers and on the bottom part on shelfs the fragrances.
DOLCE GABBANA - COUNTER DISPLAY SPRING PEONY
Dolce Gabana launched a new spring make up collection called PEONY LOVERS. The counter tester has been realized in PMMA using industrial plastic cutting and assembly technics. Decorations have been realized in vitro digital printing.
LANCOME - PREMIUM SHELF TESTER ABSOLUE
Development of a premium shelf tester for the new Lancôme Absolue Skincare that symbolize beauty excellence. The shelf display enhances the innovative and luxurious positioning of the products line by using black PMMA and gold aluminium finishing touches.
KHIEL'S - INSTITUTIONNAL GLORIFIER FACE MASK
Realisation of a black metal structure with two removable circular visuals. The Glorifier presents the multiples powers of the facial masks from the American nature inspired cosmetic brand.
PACO RABANNE - OUTPOST AND WINDOW DECO LEGEND
Discover INVICTUS LEGEND et OLYMPEA LEGEND the new perfumes by Paco Rabanne. For their launching, they are highlighted on a Outpost Window déco réalized totally with cardboard exept the triceratops head from the advertising visual , réalized with silver metallized resin.