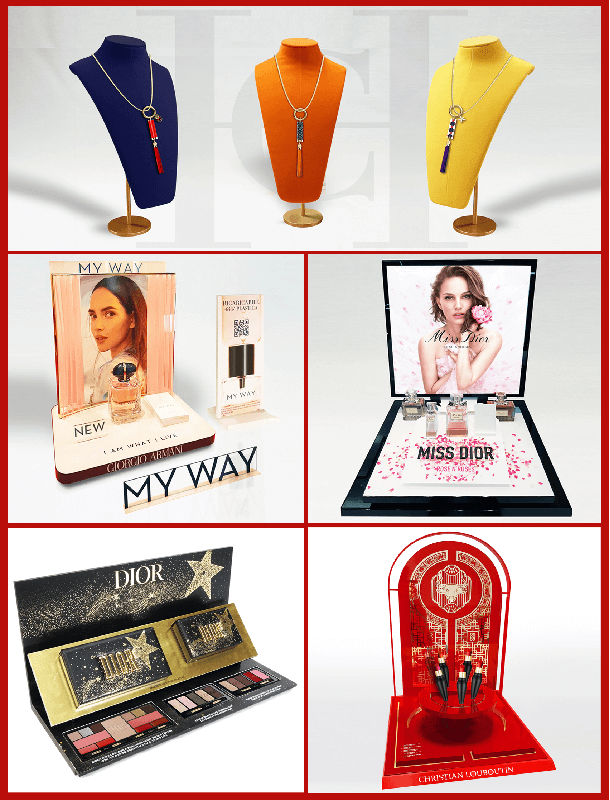 ×
News
OUR CURRENT PROJECTS
CAROLINA HERRERA - THE BUSTS
To present its Ready-To-Wear make-up line, the Carolina Herrera brand called on the Marie-Laure PLV group for the production of playful and colorful busts.These busts were installed in perfumeries in the Middle East, South America, Spain or the United Kingdom. Materials used: Thermoformed plastic covered with fabrics - Metal
GIORGIO ARMANI - MY WAY PERFUM LAUNCH
For the worldwide launch of MY WAY, a new fragrance by Giorgio Armani, L'Oréal Luxe relied on the expertise of Marie-Laure PLV Merchandising group to develop and produce this multi-materials display : acrylic, injected front parts in TPX, arch in gold metal, wooden base.
.
DIOR - MISS DIOR ROSE'N ROSES
The Marie-Laure PLV group carried out with DIOR the production of the Miss Dior Rose N 'Roses display for the Roller-Pearl Eau de toilette worldwide launch. Materials used: injected and extruded PMMA. Digital printing for decorations.
LOUBOUTIN - COUNTER TESTER LOUBOUTIN CNY
Marie-Laure PLV designed this display to celebrate the Chinese New Year. It was installed in points of sale in Asia. It highlights the Louboutin velvet lipstick. Materials used: Metal structure - Plastic shelves - Screen printing or.
DIOR - CHRISTMAS LOOK
For the holiday season, Dior is presenting its new make-up collection. We find all the magic of Christmas nights in the decorations of this display DIOR. Materials used: PS shelves - PMMA SR - gold serigraphy.
.