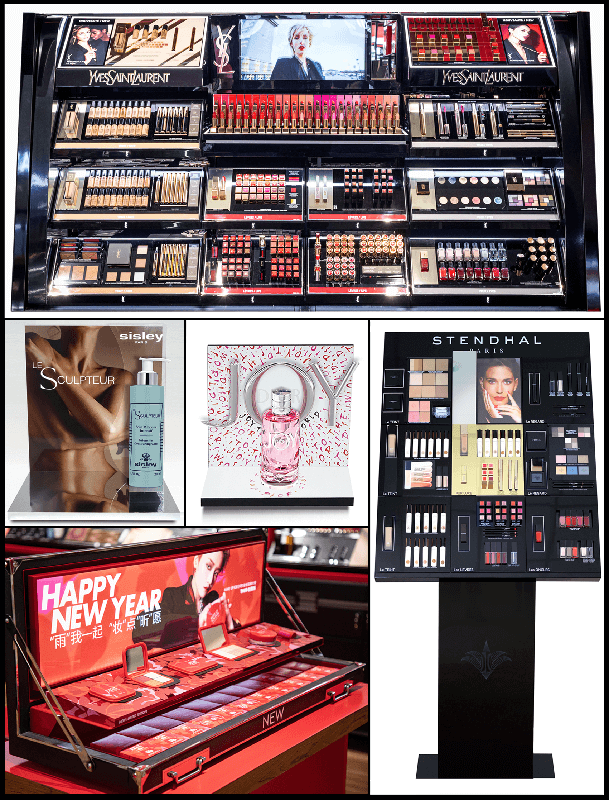 ×
News
OUR CURRENT PROJECTS
YVES-SAINT-LAURENT - THE NEW YVES-SAINT-LAURENT MAKE-UP GONDOLA
The new YVES-SAINT-LAURENT gondolas reinforce the brand's presence at SEPHORA and create an event. The top part of the gondola presents the leading products and new products. A video screen and a lipstick color piano in its central part arouses curiosity...Materials used : Plastic - Metal - Video screen - Hot stamping - Drawer lighting.
l
STENDHAL - THE NEW MAKEUP GTU
The design of this matérial, developed internally, highlights the colours - and the grids' setting allows the dummies to be displayed on a raised part on the left and the testers on the right. The iconic Pur Luxe line is centered, sublimated by a gold background. A mirror, as well as a backlit visual and logo increase the impact of this make-up tester. This has been implemented in the Bogart's distribution network in France, Belgium, Germany and Israel.
.
DIOR - JOY KIT DECO
To present its limited edition JOY TO THE WORLD, Dior offers us a scenography composed of colored letters in relief realized in digital printing with a relief varnish. Materials: Plastic tablets - Digital printing - relief varnish.
SISLEY - COUNTER TESTER LE SCULPTEUR
The design of this display highlights "THE SCULPTOR", the new slimming innovation from SISLEY to refine your silhouette. Materials: Plastic and mirror aluminum.
MAKE UP FOR EVER - NOVELTY TABLE
Marie-Laure PLV has designed with its partner in China this novelty table which has been installed in many outlets in Asia. The design features the brand's iconic stainless steel case.